Music - Ms. Daigle
Welcome! I hope that you're student is ready to be immersed into the world of music! Ukuleles, recorders, boomwhackers, drumming, dancing, singing, games, and theater are just some of the activities that I love to teach in class. Music is my passion and I absolutely adore sharing my love for it. The Christmas Pageants and Spring Concerts happen twice a year and showcase every grade's voice. If you have any questions, please This e-mail address is being protected from spambots. You need JavaScript enabled to view it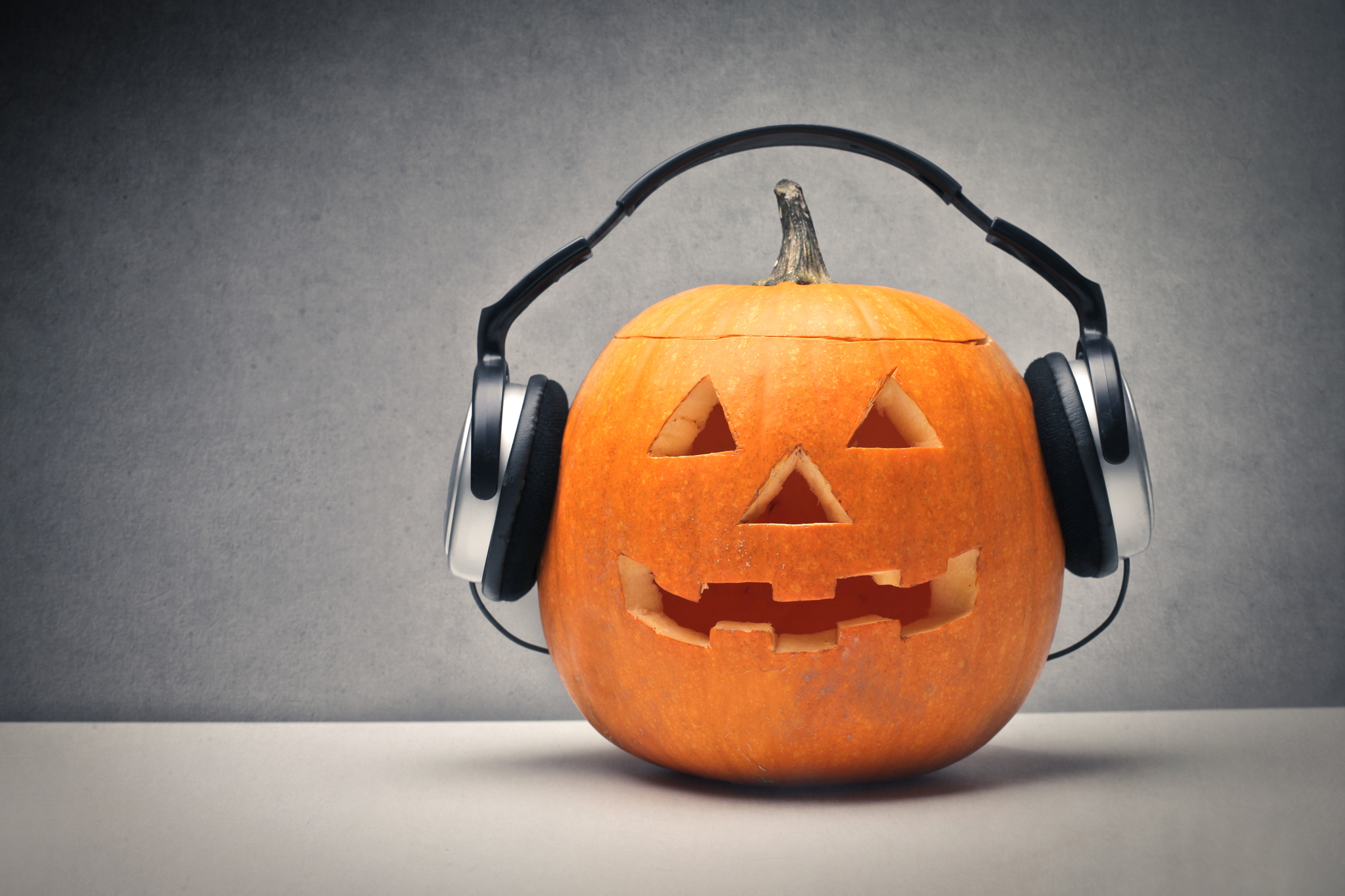 Happy October! Fall is my absolute favorite season, not only because of the weather but I get to sing fun songs to the little ones involving Halloween and create worksheets with ghouls and pumpkins. In addition to all the fun activities below; Prek-2 grade and 3-6 grade will be begin to learn their Christmas Concert songs!
This month pre-k and K will explore will play everyone's FAVORITE game "We are Spooky Skeletons." This gam re-enforces call and response type learning and gets the kids moving! Colorful Halloween books will be sung to them with accompany on the ukulele. We'll have lots of fun!
First grade will begin to discover how quarter note beats work with "The Muffin Man." Each quarter note is a muffin! "Big Black Cats" and "The Itsy Bitsy Spider" will also aid them in learning rhythm with body percussion and instrumental percussion. "In the Hall of the Mountain King" will be listened to and talked about. And because they love it so much from last year, "We are spooky skeletons" will be played. Eighth notes will be introduced later in the month and how they are written and played.
Second grade will continue their rhythmic training in addition to singing "Mi, Sol, and La." We'll be playing "Down in the Valley" with a tennis ball in a circle and learn "Poor Little Kitty Cat." The concept of timbre will be learned by the different instruments in class. They will then begin to learn notating So-Mi-La with little ghosts and play them on the boomwhackers!
Third grade will receive their recorders at the end of the month! They're first notes will be B-A-G. Families at home - prepare for a lot of Hot Cross Buns and other easy fun tongs to play at the start of their recorder adventure. The Pentatonic scale will be talked about. After learning about the Pentatonix and voice types last month from the magazine "Music Express" the kids will get to play and understand why the Pentatonix names their vocal group after really cool scale!
Fourth grade will also continue to learn their recorders. 6/8 time will be re-introduced and practiced as well as moderately difficult songs from our new books "Recorder Express."
Grade five was introduced to ukulele the last week of September. C7 and F Major chords were learned. "Clementine" will be our first graded song to perform this month. Students will then experiment and create their own songs when more chords are added.
Composer on the Month - Mozart! Who was he?!
Nothing like listening to music in the end of the summer crisp days! I hope everyone had a lovely summer, I was quite busy but luckily managed to find some time to soak in the sun.
For my new parents: Your kids are about to be immersed in lots of fun activities this year. I teach using the methods of Orff and Kodaly to teach my classes – both focus on combing music,movement, drama, dance, and hands on instruments and activities into each lesson.

My main goals follow the national and NH standards of music, plus some! I focus on making my classes engaging, easy to learn, and downright fun for kids of all ages.
Pre-K and Kindergarten will be ON THE FARM this month! They'll be working on pulse, fast vs. slow, rhythmic patterns, high vs. low, same vs. different, long vs. short, and towards the end of the month; singing, beginning percussion, and musical phrasing. We'll be singing  and dancing to favorites - "Old MacDonald Had  A Farm," "Mary Had a Little Lamb," "Hey Diddle, Diddle," and many more!
First grade will be focusing in on the quarter note and rest. We'll be drawing them and learning how to read and play them. They will be using drums and other percussion instruments in class as we march around the room to "the Bare Necessities."
Second grade will be learning and reviewing quarter and eighth notes and rests as well as the pitches and hand signs for Do, Re, Mi. They will also be learning what timbre is in music (quality of
sound) by playing lots of different instruments.
In addition to 3-6 grade below the kids will be learning about India by listening and playing to the song "Diwali, Diwali." 3rd and 4th will be learning the traditional dance used in this song and 5thand 6th graders will be learning more about the culture of India. And not just music culture– geography, customs, dress, and much more! A little clean Hamilton fun wil be happening in the 5th and 6th grade classes as well as learning more about Alex Lacamoire (Director of Hamilton, Dear Evan Hansen, and Wicked on 
Broadway).
Third grade will slowly begin to learn how to READ MUSIC! They learn how to slowly read music beginning with notes B, A, and G on the boomwhackers. Quarter notes, eighth notes, and half notes, and whole notes will be reviewed. We will be playing beginning songs at first, then we'll get to the fun ones later! Recorder orders will be going out very soon. Each child will purchase a recorder of their own. This order will be no more than $8 and your child will receive a recorder, case, cleaning rod, and practice book that we will be using in class.
Fourth grade will be reviewing all notes and practicing their rhythms. They will have the chance to play "The Pink Panther" on the boomwhackers rhythmically and rapid fire treble cleff note names. Recorder orders will be going out very soon for new fourth grade students.
Fifth graders will be diving into everything that they have learned in the past three years with me! They have graduated with recorder and will be moving on to even more challenging instruments. They will be playing folk songs such as "Tom Dooley," "Shake the Papaya Down," and "I Want to Rise" on the ukuleles.
Sixth graders will be reviewing the FUN-damentals of music. Rhythm, pitch, and melody are familiar tothem. Chord form and progressions will be introduced and a more deep understanding of the circle of fifths (touched upon last year) will be studied! We will also be diving into Handel's "Le Rejouissance: Allegro" – strings, timpanis, horns, and clarinet players delight!
- Miss Daigle -
Interested in Chorus for you student? (Grades 3-6)
Interested in Drama for your student? (Grades 3-6)
St. Christopher School's Spring Concerts 2017
Prek-2 Grade:
Teach the World to Sing
Wednesday May 31st at 10am
3-6 Grade:
American's, All
Tuesday May 23rd at 10am
Happy month of concerts! I'm beyond excited to for parents, teachers, staff, and students to see the concerts this month! Students have been working hard on their two selected pieces for Spring. prek-2 will be singing selections from "Teach the World to Sing" and pre-k will be singing 3-6 grade will be signing from "American's All" with some other fun songs thrown in!
5th and 6th graders will be finishing up their comic strips and being to learn how to use garage band. – check out what these are about in last month's update in April.
Prek-2 have a blast with the amount of instruments St. Chris has to offer. They know how to play rhythm sticks, sand blocks, guiros, triangles, shakers, tambourine's, jingle bells, and of course boom whackers and drums! The older friends will be learning more about cultures from around the world. We learned about Japan last month and will be learning about South American music and the music of many other wonderful countries and continents.